Why TOTAL Vietnam?
Total is a global integrated energy producer and provider, a leading international oil and gas company, and the world's second-ranked solar energy operator with SunPower. Our 98,000 employees are committed to better energy that is safer, cleaner, more efficient, more innovative and accessible to as many people as possible. As a responsible corporate citizen, we focus on ensuring that our operations in more than 130 countries worldwide consistently deliver economic, social and environmental benefits. www.total.com
Established in Vietnam in the early 1990s, Total Marketing & Services Vietnam now employs almost 900 staff mainly for Liquefied Petroleum Gas (LPG), lubricants and retail activities.
LPG

Totalgaz Vietnam acquired Petronas Vietnam Limited in May.
With this acquisition, Totalgaz becomes the second largest
LPG player in Vietnam.



Lubricants

Total distributes lubricants through its 100 percent-owned
subsidiaryTotal Vietnam Limited. The Total lubricants plant
is located at the Go Dau industrial zone, close to HCMC.


Retail

Total also distributes petroleum products in the center of
Vietnam under its own trademark and is the only international
petroleum company in Vietnam also operating as a distributor.


Through sustainable business operations, Total has also contributed to social and economic development in Vietnam.
Safety – core component of a
sustainable company

Safety – uncompromising
Your safety is my safety.
Safety For Me, For You, For All!
We want everyone to go home safe every day




Respect each other

Listening to others
Respect for human rights and embracing diversity
Hand in hand with honesty
Honoring the contracts and agreements we sign




Pioneer spirit

Boldness, ambition and courage
Adapt and overcome adversity and develop agility
To be curious and embrace challenge

Stand together

Pioneer would be of no avail if we did not stand together
Be loyal and trust in each other
"Think Total" and Team spirit
Be responsible and giving back to the communities



Performance minded
Strive for excellence
Think big but don't short the details
Just doing something is not enough; we have to do it very well, even be the best
It's basis of the trust that we establish with our partners and customers
Total Marketing & Services has been growing very fast in Vietnam. And we offer diverse and various career opportunities in Sales, Marketing, Supply Chain, Finance & Accounting, and Human Resources….

Joining Total Vietnam, you will:
#1 - Contribute to a responsible energy future - Energy is a source of progress. Its availability is crucial for countries'development and a better standard of living for their people
#2 - Rise to rewarding challenges - Energy is an extraordinary business sector. It is extraordinary because of the technological, economic, geopolitical and environmental challenges it faces. To rise to them, we are harnessing our employees' talent in the 130 countries where we have a presence
#3 - Develop your skills - Our employees benefit from continuous tailored training throughout their professional journeys in order to enhance their skills and facilitate their career development
#4 - Discover amazing career opportunities - At Total Vietnam, your careers matters. And you are the Chief Architects of your careers. We work together to help you advance, by offering a wide range of opportunities for mobility
#5 - Enjoy attractive Total rewards program encompasses five key areas: Compensation, Benefits, Life, Culture and Career
Since 2003 Total Vietnam has been engaged in the community activities such as building schools, providing scholarships, assisting in medical activities and safety with some typical projects:
Since 2014 Total Vietnam has covered fully or partially the operation costs of the"PointCom"
to provide education for 70 underprivileged children (in partnership with Poussierres de Vie (NGO)
Has sponsored the Life Project Management to provide 24 underprivileged
youngsters with free profession orientation, English and IT classes at the LP4Y center.
In 2017, Total Vietnam's Corporate Social Responsibility (CSR) has reached a new height with a dedicated CSR Committee was formed and allocated budget three times higher than previous year, focuses on safety and education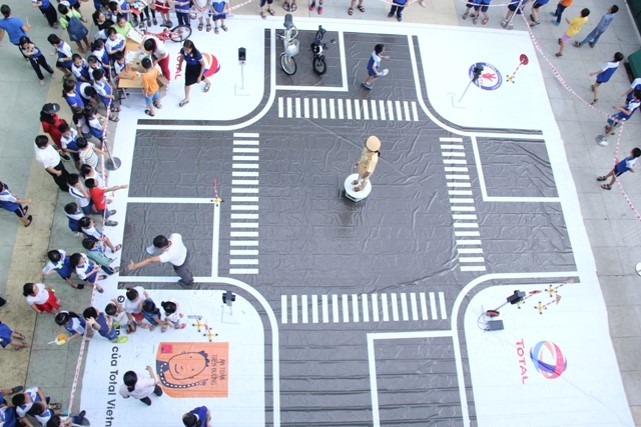 Total Vietnam partner with Global Road Safety Partnership (GRSP) in the Road safety project
at Doan Thi Diem and Ngoc Lam primary schools in Hanoi, Dong Da and Ham Nghi primary schools in HCMC
Inside review about TOTAL Vietnam